Endives, one of the vegetables that doesn't make you dream! And yet, well cooked it is excellent. I must admit that I love them raw in salads, but I wanted to change my daily routine a little and make it more festive. With all the flavours of the end of the year, I was inspired and so I made endives with orange and spices. I was pleasantly surprised, if you like sweet and sour, it's for you!
I accompanied the endives with a fish, but they will marry wonderfully with white meat, with tofu or tempeh.
This recipe reminded me of another one I like to make, fish with citrus butter. Easy, so good, and it's a 100% vegetable version that will delight vegans!

Preparation : 10 min | Cooking : 30 min | Total time : 40 min
Ingredients:
4 to 6 endives
1 orange: juice and zest
350ml of water
1 tablespoon of cane sugar
1 level tablespoon of 4 spices
olive oil
salt, pepper

Preparation:
1/ Wash and remove damaged leaves from endives. Cut the bitter heart and then the endives in half.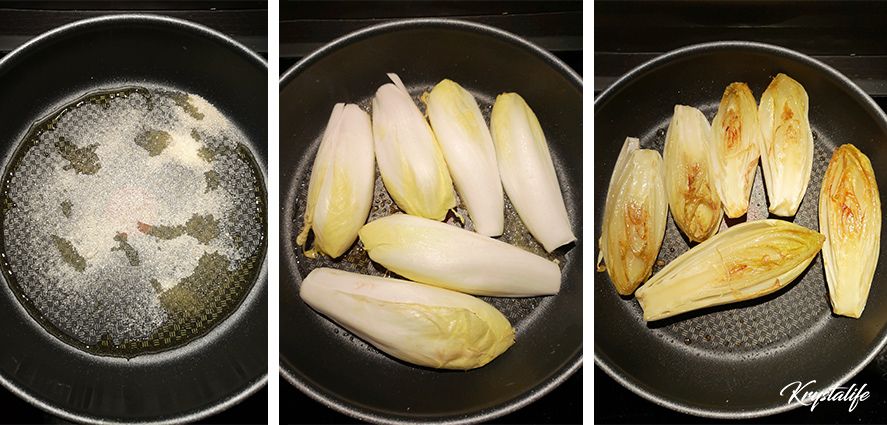 2/ In a frying pan, add the olive oil and sugar, then add the endives to caramelize them over high heat.
3/ Wash the orange, then recover the zest and juice.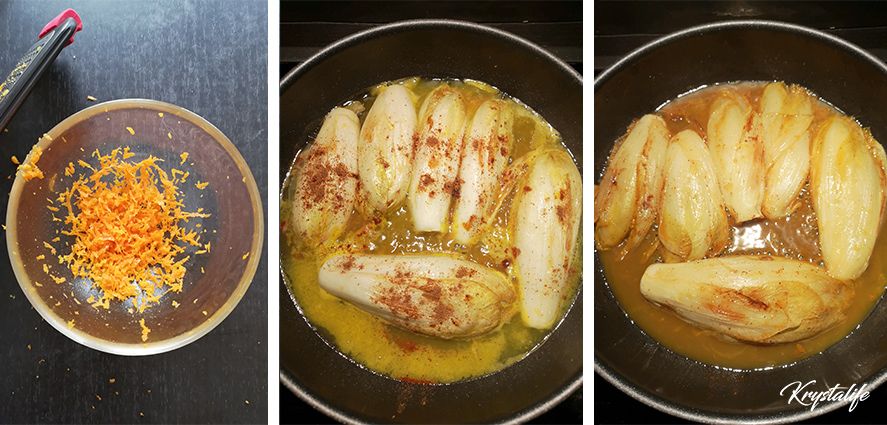 4/ Once the endives are caramelized, add the orange juice, zest, water, 4 spices, salt and pepper.
5/ Cook over medium heat, covered, turning the endives from time to time.
6/ When the endives seem almost cooked to you, remove the lid and let the sauce reduce.
When everything's cooked and there's a little sauce left, it's ready!
Do you like this recipe? Will you try it?