Since my trip to Canada, I can't help but drink chai latte. Before, I used to drink the chai in tea version, because it was easier to find in organic stores and healthier than the blends that can be found in supermarkets. The disadvantage is that it must be prepared by making a decoction: boil it in water or milk for 15-20 minutes to benefit from its intensity and properties. So I started looking for a ready-made powder mixture and I might as well tell you that I couldn't find anything that satisfied me. That is, a mixture of sugar-free spices and other additives. So I looked at several compositions and made my chai powder recipe. We are our own best advocates, as the saying goes.
My Chai powder recipe is quite intense, so you don't have to put a lot of it in! For some, ¼ see ½ coffee spoon in a cup is enough. You can also use less ginger and cloves if you prefer a lighter taste.
For a jar of Chai (about 41 g):
20 g cardamom
12 g ginger
9 g cinnamom
a pinch of powdered clove or 1-2 cloves
I also give you larger quantities, if you want to offer your Chai blend to friends. It's a nice and original gift idea!
Pour environ 3 pots de Chai (125 g) :
60 g cardamom
37 g g ginger
28 g cinnamon
½ coffee spoon of powdered cloves or or 4-5 cloves
Preparation :
If you use powdered spices, mix all the spices until you obtain a homogeneous mixture.
Otherwise you can use a food processor. Put all your spices in the bowl and mix all the ingredients for 10 to 30 seconds at maximum power depending on the spices you have to mix. The final result is a beautiful homogeneous powder.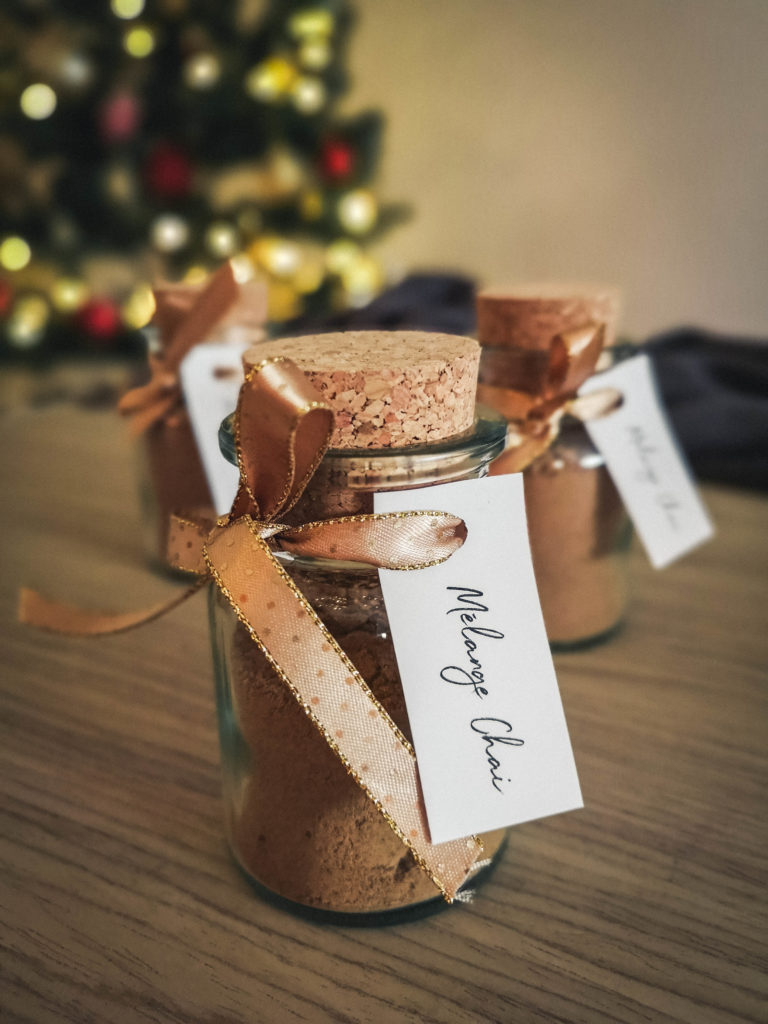 A little anti-waste tip if you use a food processor. Once your preparation is emptied, there may be some chaï left. Add a little chocolate powder and milk (almond for me!) to have a delicious chocolate and spicy drink.
Of course you can also use this blend to flavour your cookies, cakes, cereals, creams, it works perfectly!
During these festive times, I feel an even greater desire to drink spicy drinks. For gourmet drinks, you can test different combinations:
Chai + milk (vegetable or not)
Chai + chocolate milk / flavoured
Chai + matcha + milk
My guilty pleasure of the moment: the caramel latte macchiato + chai powder or the matcha with almond milk + chai powder !
What's your favorite drink?
You might also like