I don't know about you, but I love almond milk, it's a milk that I use all the time, especially for breakfast or in my sweet recipes, as a substitute for cow's milk. Sometimes, the stock runs out a little faster so we quickly find alternatives: homemade express vegetable milk! Because it's a very quick and easy recipe 🙂
Only 2 ingredients: water and nut / oilseed butter!
So yes, mashed potatoes, mashed hazelnuts, mashed cashews, peanut butter, … It's as much variety as possible !
The big advantage is also the ability to adjust the dosage of almonds in the milk. Many supermarket milks have a very low concentration of almonds compared to the milks available in organic shops. You are in charge here! You can modify the recipe according to your taste 🙂
I used a whole almond puree, it gives the milk a slightly darker colour but doesn't change the taste!

Preparation : 5 minutes | Total time : 5 minutes
Ingredients for 1 L of plant milk:
1 Litre of water
3-4 tablespoons of almond butter (or the butter of your choice: hazelnut, cashew, peanuts, …)

Preparation: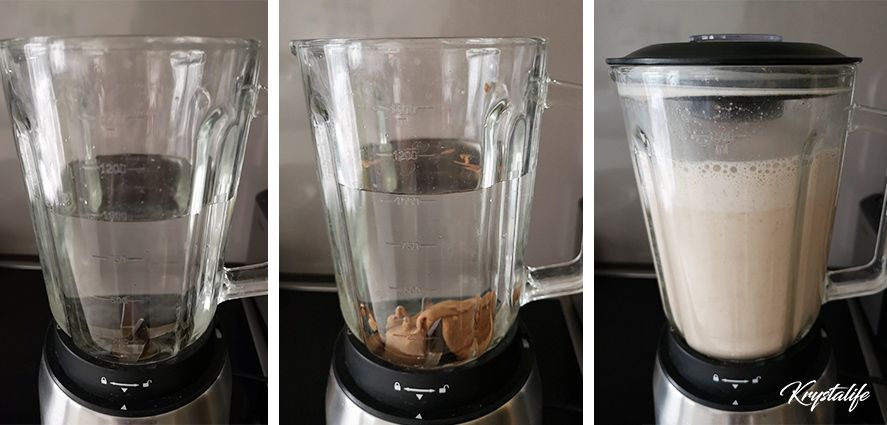 1/ In your blender / food processor add the water and almond butter.
2/ Mix the preparation until the puree is completely dissolved.
Et voilà !
There is a bit of foam but it will disappear 😉
Tip: If you don't have a robot, you can use a shaker and elbow grease! Put only a smaller amount of water with the almond puree. Once diluted, you can extend the preparation with water and mix again.
If you like the recipe leave me a comment! 🙂