Summer time is coming and we love to see new fruits and vegetables 🙂 As I love soups and wanted to make something quick and tasty, I decided to make a goat's cheese and courgette soup.
Of course, you can add another cheese if you wish or even do without for a vegan version by sprinkling nutritional yeast flakes on your plate just before eating your soup.
Preparation Time: 7 minutes | Cooking Time: 30 minutes | Total Time: 40 minutes

Ingredient:
3 courgettes
1 aubergine
4-5 slices of goat cheese (or other cheese)
1 onion
2 tbsp. olive oil
salt, pepper
Optional: basil leaves, flavoured oil (toasted sesame, basil…)
Vegan version: nutritional yeast flakes

Preparation: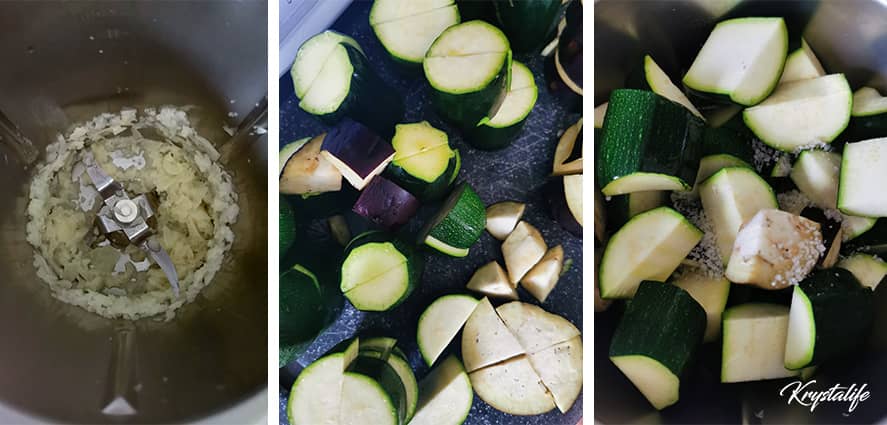 1/ Chop the onion and fry in a large pan with two tablespoons of oil.
2/ Cut the courgettes and aubergine into pieces and add them to the mixture.
3/ Add the water to the vegetables: be careful not to add too much water if you don't want the soup to be too liquid. The courgettes are full of water, so make sure the water level is about 3/4 of the way up the vegetables. It is better to add a little water after cooking if necessary.
4/ Season to taste.
5/ Cook for about 30 minutes. Stir the soup from time to time.
6/ At the end of cooking, you can add pieces of goat's cheese log.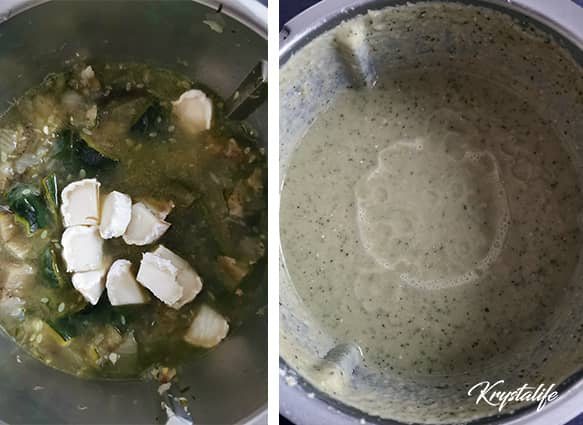 7/ Once cooked, blend the soup to obtain a velouté. If the texture is a little too compact, add a little water. You can taste of the soup if you need to add more salt.
8/ You can eat it hot or cold, as you prefer, with a few basil leaves and a dash of the flavoured oil of your choice.
And it's ready!