Today I'm sharing an anti-waste recipe with you! What do you do with the leaves of your radishes ? because they are edible 🙂 Of course you can cook them in a soup, but I have a great preference for radish leaf pesto . It keeps all the vitamins and minerals and it's also very good 🙂
You can supplement it with a few basil leaves if you want to give it an extra flavour but it works very well without.
You can use it to season savoury dishes – pasta, salad dressing … – but also spread it on a slice of bread as a spread, perfect for an aperitif or a starter with cherry tomatoes.
If your blender is powerful, you can grind hazelnuts and cubes of Parmesan cheese. Roast the hazelnuts just before blending to add a subtle "toasted" taste.
Variants:
Replace hazelnuts with pine nuts, almonds or walnuts.

Préparation : 5 minutes | Temps total : 5 minutes
Ingredients:
The leaves of a bunch of radish: about 60-80g
60g hazelnut powder
50g of parmesan powder
4 tbsp olive oil
1 clove of garlic
salt to your liking
optional: 10 basil leaves to add extra flavour

Preparation: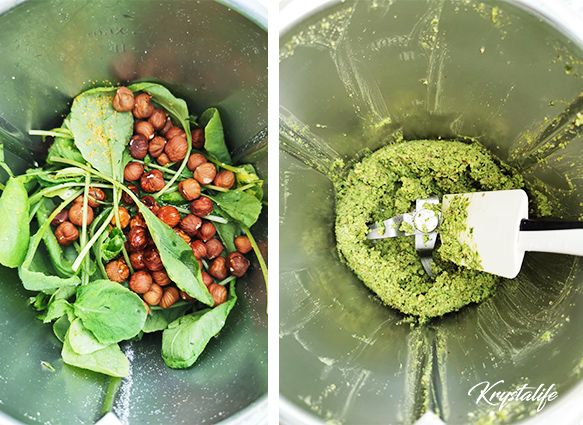 1/ Put all the ingredients in your blender and blend until you obtain a homogeneous mixture and a texture close to pesto.
2/ Reserve your radish leaf pesto in a cool place before tasting.
This pesto can be kept in a small jar in the refrigerator for several days.