Attention chocolate addicts! Making your own chocolate bar is super easy! Pure chocolate and the topping of your choice and that's it! All you need is a silicone mould to make the chocolate bar and to unmould it easily.
These bars make great gifts, especially during the holiday season. Either a whole version, or broken up into pieces in an assortment with biscuits or other items.
Preparation : 10 min | Cooking : 20-25 minutes | Cooling : 1h min

Ingredients (as an indication depending on its size):
2 bars of dark chocolate
1 bar of praline chocolate
1 white chocolate bar
Topping: any dried fruit you like, mini marshmallows, spices…
You can adjust the quantities according to the size of your silicon mould. I used a large baking tray for sponge cake but a smaller mould will also do. Just put fewer chocolate squares inside.

Preparation:
1/ Preheat the oven to 50°C.
2/ Place chocolate squares in the silicone mould, varying the flavours.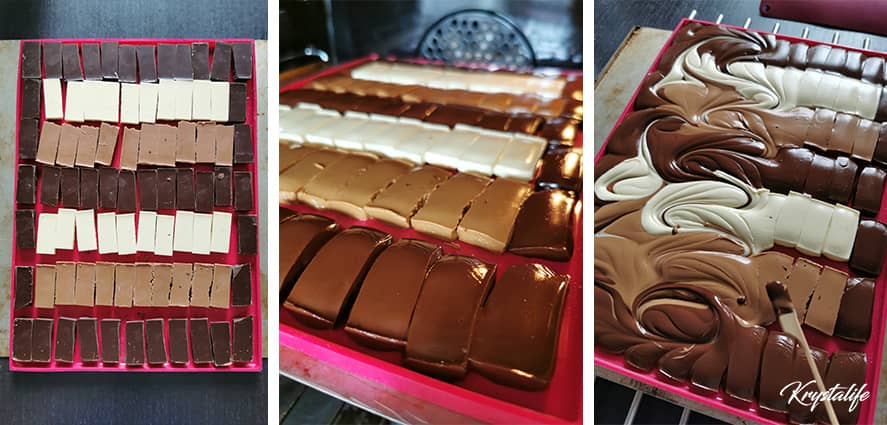 3/ Bake for about 20 minutes (the pieces should be soft).
4/ When you come out of the oven, take a large stick or the handle of a cutlery set and make lines in the chocolate. From bottom to top, from left to right, then make curves, waves and circles, depending on the pattern you want to have.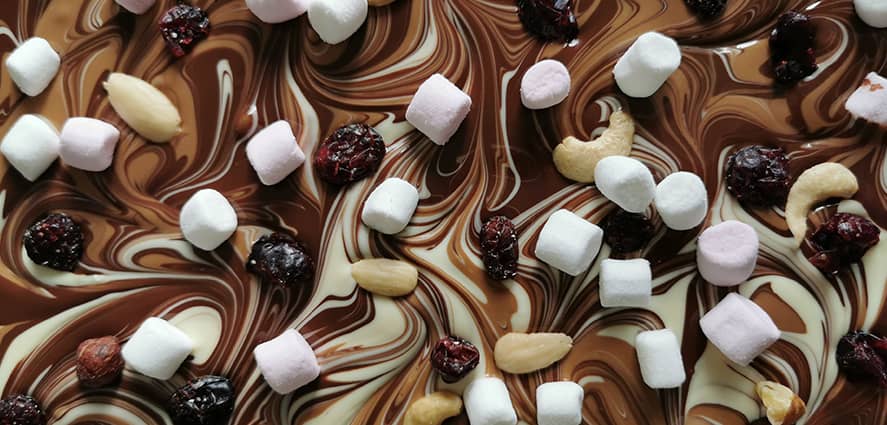 5/ Once the design is finished, you can add whatever you like to the chocolate. I personally added cashew nuts, almonds, hazelnuts, cranberries and mini marshmallows.
6/ Leave to cool in a cool room for at least 1 hour to allow the chocolate to set properly.
And that's it! Ready to be enjoyed with a coffee, a hot chocolate, or just like that, for a treat 🙂