Today I would like to present you a gourmet dessert: a peanut butter cake and its chocolate icing. I love its softness, and surprisingly, the recipe doesn't contain any eggs! Yes, it is not an omission for people who would wonder when reading the list of ingredients 😉
You might as well say that the marriage of peanut butter and chocolate is to die for! The icing contains coconut oil but you don't taste it, I promise ! The chocolate takes over.
For breakfast or dessert, it is perfect with a coffee!
I used a brownie mold to make square cuts, but you can use another mold. It is nice to have square pieces to offer to guests, and you can adapt the size as well.

Preparation: 10 minutes | Cooking: 20 minutes | Ready in 30 minutes
Ingredients for the cake :
250g (2 cups) flour
100g (1/2 cup) sugar
1 tbsp. chemical yeast
1/4 tbsp baking soda
120g (1/2 cup) peanut butter
250ml (1 cup) almond milk
1 tbsp cinnamon
Ingredients for chocolate icing:
100g (2/3 cup) dark chocolate dessert
2 tbsp. of coconut oil (mine was solid)
40ml (1.4oz) vegetable milk
2 tbsp peanut butter or almond butter (hazelnut or other)
A few broken almonds for decoration

Preparation:
1/ Preheat the oven to 180°c.
2/ In a food processor or a blender, mix the almond milk, peanut butter and sugar.
3/ Add the flour, yeast, baking soda and cinnamon. Mix again.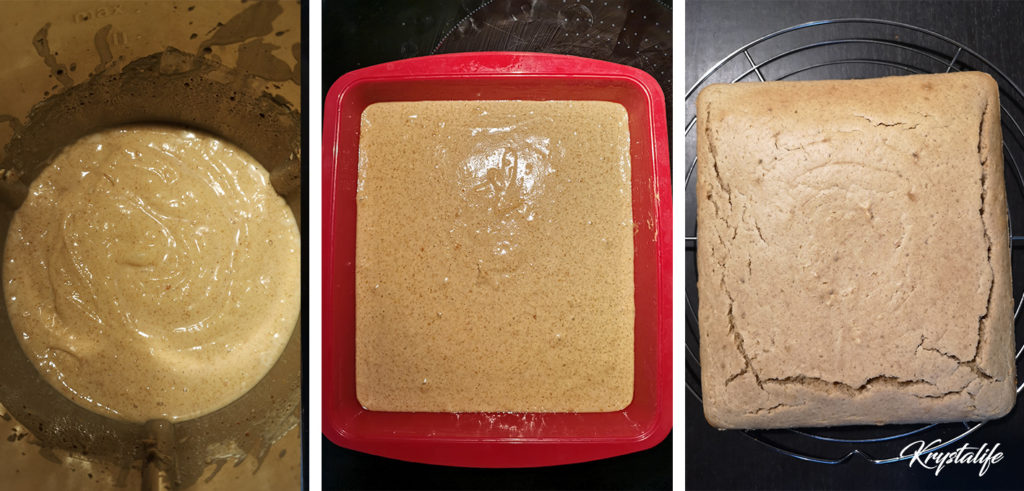 4/ In an oiled mould, pour the batter and bake for 20 minutes at 180°c (rotating heat).
The cake is baked when the tip of the knife comes out clean from the centre. Wait a while before removing it from the mold and place it on a rack to cool completely.
5/ Icing: Start melting the chocolate in a double boiler with coconut oil.
6/ Add the peanut butter or almond puree, mix and then add the vegetable milk.
7/ Spread the chocolate icing on the cake and sprinkle with broken almonds.