This year I wanted to give you a vegetarian savoury recipe and it is also vegan because of the ingredients I used. This vegan shepherd's pie with wine sauce flavour is an ideal alternative and even makes us forget about tofu!
It is thanks to a marinade that it takes on unusual aromas 🙂 Remember to do step 1 of the recipe ahead of time so that the tofu will absorb the flavours of the marinade.
In this recipe, I deliberately chose not to blend the sauce so that the ingredients would hold together well when the parmentier is assembled. You can of course modify this recipe and adapt it as you wish without making a shepherd's pie assembly.
If you have a steamer, you can use it to cook potatoes and mushrooms.
Variations if you don't want to make mashed potatoes:
simple cubes of firm-potatoes,
a potato gratin
will be perfect with the wine sauce and tofu.

Ingredients for 6 people:
Marinade :
250g tofu
120ml of wine
110ml soy cream
25ml soy sauce
1 sprig of fresh rosemary
3 bay leaves
Filling :
800g of potato pieces
150-200g chopped onion-s
400g button mushrooms (or a mixture of mushrooms)
100ml soy cream (the rest of the small brick)
1 vegetable stock cube
400ml of water
1 tbsp tomato paste
20g corn starch
olive oil
salt, pepper

Preparation :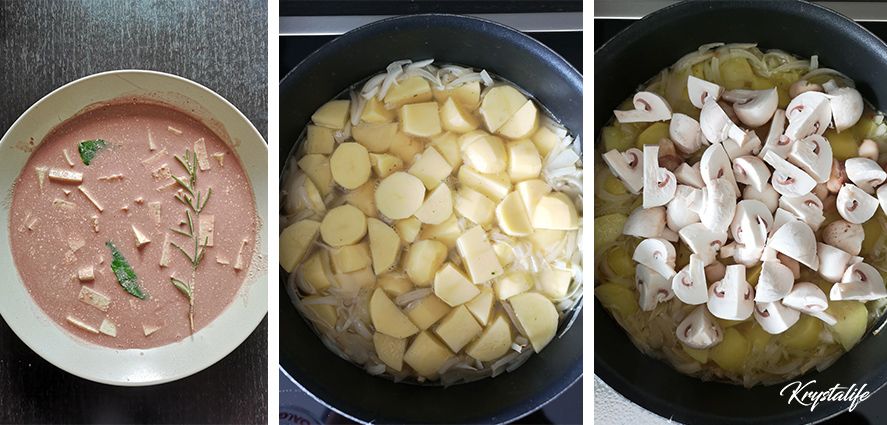 1/ Prepare the marinade in a shallow plate by mixing all the ingredients and adding the tofu pieces at the end. Leave to marinate for one to two hours.
2/ Brown the chopped onion in a stewpot with olive oil.
3/ Add the water and the vegetable stock cube and put the potato pieces. Cook for 10 minutes on high heat.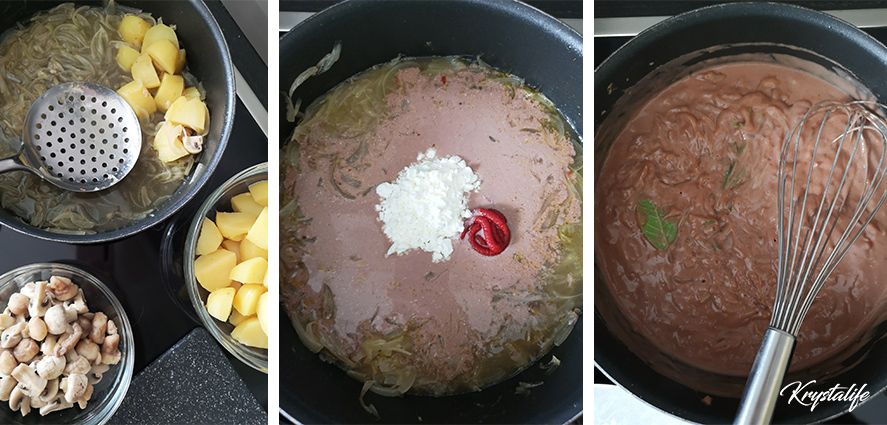 Check the cooking of the potatoes, the tip of the knife should slide inside. At the end of cooking, lower the heat and remove the potatoes and then the mushrooms, set aside in two different containers.
5/ Drain the tofu and pour the marinade into the stewpot with the onion and the cooking juice.
6/ Add the tomato paste, cornflour, salt and pepper.
7/ Cook for 5 minutes until the sauce thickens. Stir well until the sauce sets. Adjust the seasoning if necessary.
8/ Remove the rosemary and the bay leaf, then add the tofu, the mushrooms and mix the preparation.
Tip: If you find that there is too much sauce, add small pieces of bread crumb, they will absorb the excess.
9/ Mash or mix the potatoes with the remaining soy cream, adding salt, pepper and a little nutmeg.
You can prepare the two preparations on the plates using cookie cutters.