Christmas holidays are fast approaching, a bit too fast! I wanted to give you some ideas for your holiday menus:) I was eager to share with you a nice and very easy recipe, a chestnut soup!
In winter I like to eat vegetable soups, but sometimes we need a change and chestnut seemed to me to be an ideal ingredient, seasonal and downright festive. The advantage of the soup is that it can be prepared in advance and reheated before the meal.
It is a healthy recipe as we like them with few ingredients and very tasty 🙂 Of course, you can modify the recipe as you wish and make your own variations. I give you some ideas at the end 😉

Preparation : 5 minutes | Cooking : 15 minutes | Total time : 25 minutes
The recipe makes 1.2L of cream soup (about 6 people).
Ingredients :
1 onion
400-500g chestnuts (cooked it will be faster, if not raw)
50cl of water
20cl soya cream
4 spices
vegetable broth (optional)
salt, pepper

Preparation :
> If you have a food processor that cooks and mixes, you can make the recipe directly in the bowl, without using a saucepan.
1/ Peel the onion and cut it into thin slices.
2/ Fry the onion in a saucepan (the one that will cook the soup) with a little olive oil.
3/ When they start to brown, add the rest of the ingredients and cook for 15 minutes if your chestnuts are already cooked (it will take at least 30 minutes to cook with fresh chestnuts).
4/ Mix it all together. You can add a little water or soy milk if desired.
---
Variants :
You can change:
the seasoning without spices
the aroma of the broth to season the velvety otherwise
use coconut oil instead of olive oil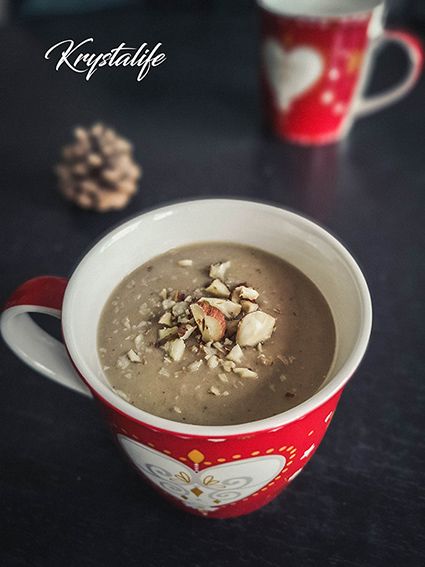 What do you think of this creamy soup? Are you ready to test?!