I wanted to bake something sweet and to change from the usual cookies, I decided to innovate! This recipe is perfect for snacks or even breakfast. The texture is soft and is close to a well-known brand: the "granny's". Here are the soft cookies – bananas & oatmeal!
For this recipe, I added chocolate and nut pieces. The nut will bring crunch to the cookies which are very soft. You can easily make variations with this base: chocolate – pistachios, almonds – cinnamon, raisins – cinnamon, … according to your desires!
If you want to put cocoa powder in the paste, it is possible, but you will have to add a little less almond powder.

Preparation: 10 min | Cook time: 15 min | Total time:25min
Ingredients for 9-10 cookies :
2 bananas (about 150g)
25g of sugar (if your bananas are ripe, you can skip some)
2 tbsp peanut butter
130g oat flakes
25g almond powder (I mixed almonds for the recipe)
1 tablespoon of baking yeast
1 tbsp vanilla powder
1/2 teaspoon cinnamon
1/4 teaspoon salt
Optional Add-ins:
50g dark chocolate in pieces
40g of walnut pieces (or almonds, hazelnuts, pistachios, …)

Preparation:
1/ Preheat the oven to 180°c.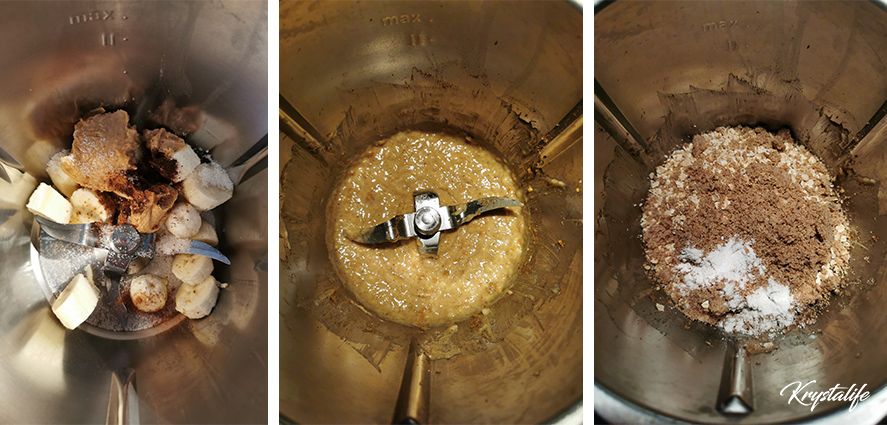 2/ In the bowl of your food processor, put banana pieces, sugar, peanut butter, vanilla, cinnamon and salt. Mix.
3/ Add the oatmeal, almond powder and baking powder. Mix again until the dough forms.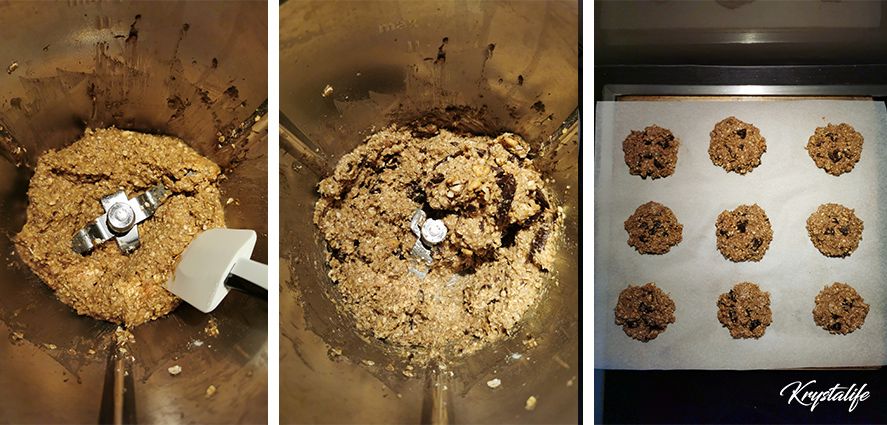 4/ Add the rest of the ingredients: chocolate chips, walnuts, nuts, or others and mix.
5/ Divide the dough into 9-10 cookies according to your baking sheet.
Flatten the cookies before putting them in the oven for 10-15 minutes.
6/ Once golden, take the cookies out of the oven. Let them cool down 3-4 minutes before putting them on a rack for another 5 minutes if you want to eat them still a bit hot 🙂
If you like the recipe, leave me a comment at the bottom of the post, thank you! 🤗 💕.