Last year I tested gluten-free, lactose-free and fat-free crepes. This year I wanted to make a recipe for sugar-free vegan crepes (lactose-free, fat-free and egg-free), yes it is possible and even delicious!
I deliberately decided not to put sugar and simply flavoured it with cinnamon. Cinnamon makes the dough look sweet, but it's not! If you want to add some sugar (1-2 tablespoons for example), feel free to do so.
Many variations are possible.
For a "sweet" version:
some essential oils in the batter (orange, lemon, …)
vanilla
orange blossom
rum
…
For a "salty" version:
Provençal herbs
spices
tomato paste concentrate (for a colourful effect of the paste)
rum
…

Preparation : 5 min | Cooking : 10 min | Total time : 15 minutes
For about 6 crepes :
Ingredients:
150g of flour
150ml of vegetable milk
150ml sparkling water
1 tbsp powdered cinnamon
1 pinch of salt
optional: 1-2 tbsp sugar
Preparation: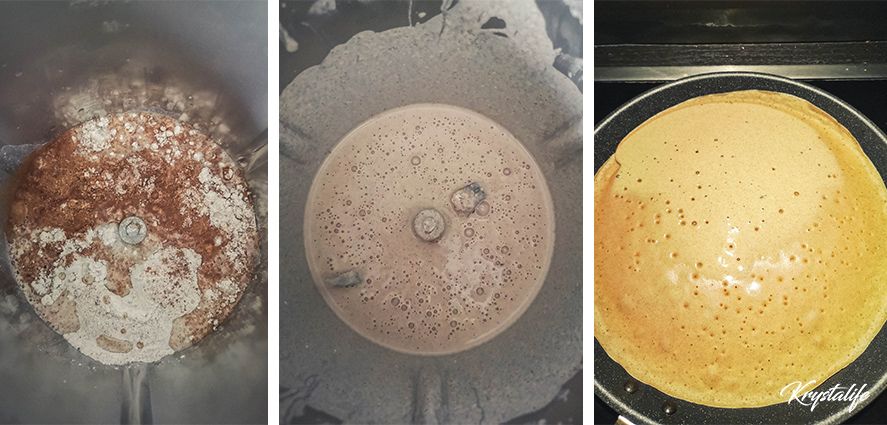 1. Mix all the ingredients together until smooth.
2. Let the batter rest for at least 10 minutes.
3/ Heat a crepe pan and oil it with a brush of olive oil.
4/ If the batter seems too thick, add a little vegetable milk.
5/ Take a ladle of batter then cover the bottom of the crepe pan finely.
6/ When the edges come off and the top seems cooked, gently turn it over.
7/ The pancake is cooked when it is a little golden.
8/ Repeat the operation until the batter is empty.
For this recipe, I made a small apple compote (x3 cut into pieces) with a little cinnamon and a tablespoon of maple syrup. Easy to make and much healthier, especially if you avoid jam or spread 😉