If you want to make a super easy recipe and you have sweet potatoes, the oven fries are for you! And who doesn't like fries?! Sweeter or even a little sweet, these sweet potato fries will delight adults and children alike with the sauce of your choice.
You will be able to vary the quantities as you wish, depending on the people and the dishes that accompany them. The most important thing is to have a baking tray so that you can spread the fries well without them touching each other, so that they can be crispy.
Note that the cooking time depends on your oven, but also on the size of your fries. The bigger they are, the longer the time will be.

Preparation : 10 minutes | Cooking time : 30-40 minutes | Total time : 40-50 minutes
Serve for 3-4 persons.
Ingredients:
2 sweet potatoes
2-4 tbsp. olive oil
salt, pepper
paprika, herbes de Provence, dried garlic… as you wish!
Preparation:
1/ Preheat the oven to 180°c (356°F).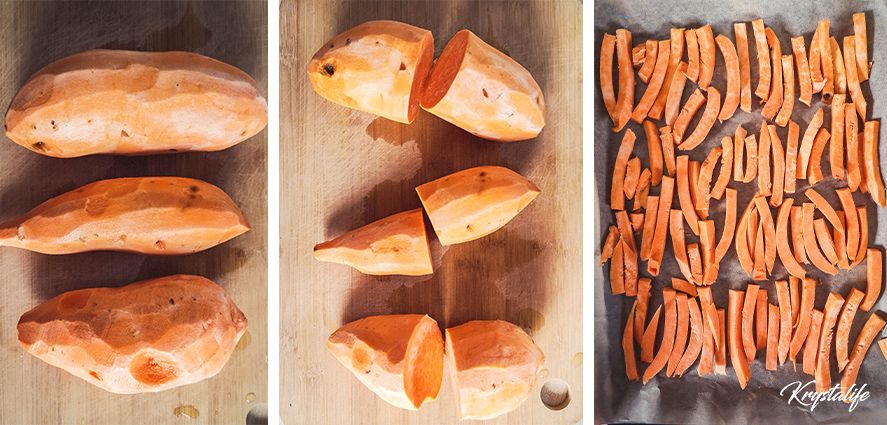 2/ Peel the sweet potatoes then cut them into the shape of French fries.
3/ Method 1 (quick): Arrange the chips on a baking sheet covered with baking paper and pour a drizzle of olive oil, salt, pepper and spices.
Personally I like to flavour them with paprika and dried "semolina" garlic or Provençal herbs. It's up to you!
4/ Put the fries in the oven for 30 to 40 minutes (180°c / 356°F). If you like crispy fries, you can extend the cooking time a bit.