The leaves are starting to fall, the freshness is gradually settling in and I wanted a squash gratin. That's good, a nice piece was waiting for me at the market!
My grandmother often made us this dish and I loved the pumpkin because of her. I added Parmesan cheese to his recipe so if you prefer a version without cheese, know that it is possible:)
By choice, I didn't put on fresh cream but only vegetal milk because we like it when it's #healthy!
The pumkin gratin is a must of the season and I give you my version, made with all my love <3
For this recipe I used 6 ramekins but you can of course use only one dish.

Preparation : 5 minutes | Cooking : 25 +15 min. | Total time: 45 min.
Ingredients for 6 ramekins:
760g pumpkin (26.80oz)
2 eggs
30g Parmesan cheese (1.05oz)
60ml vegetable milk (2.1fl oz)
1 clove of garlic
salt, pepper at your convenience
olive oil
optional: a sprig of rosemary for cooking

Preparation :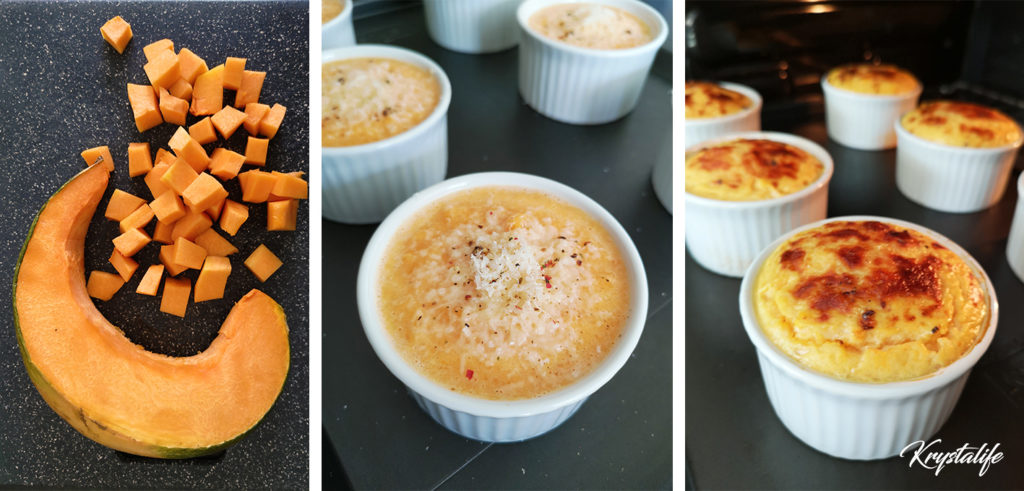 1/ Cut the pumpkin into pieces.
2/ Two cooking options:
steam: put the pieces directly into your steamer and cook for 25 minutes. It is a method of cooking that I prefer. A little tip for gourmets, you can add a sprig of rosemary to the water to steam it up.
in a pot: add a little water and olive oil and then the pumkin pieces. Cook for 25 minutes, stirring occasionally. A little tip: you can add a sprig of rosemary while cooking the squash pieces.
3/ Once cooked, all that remains is to mix the pumpkin with the rest of the ingredients ( Keep a little parmesan cheese to gratinate the top of the gratins).
4/ Oil the 6 ramekins and pour in the mixture.
5/ Sprinkle the rest of the parmesan cheese on the gratins and bake for 15 minutes or until golden brown.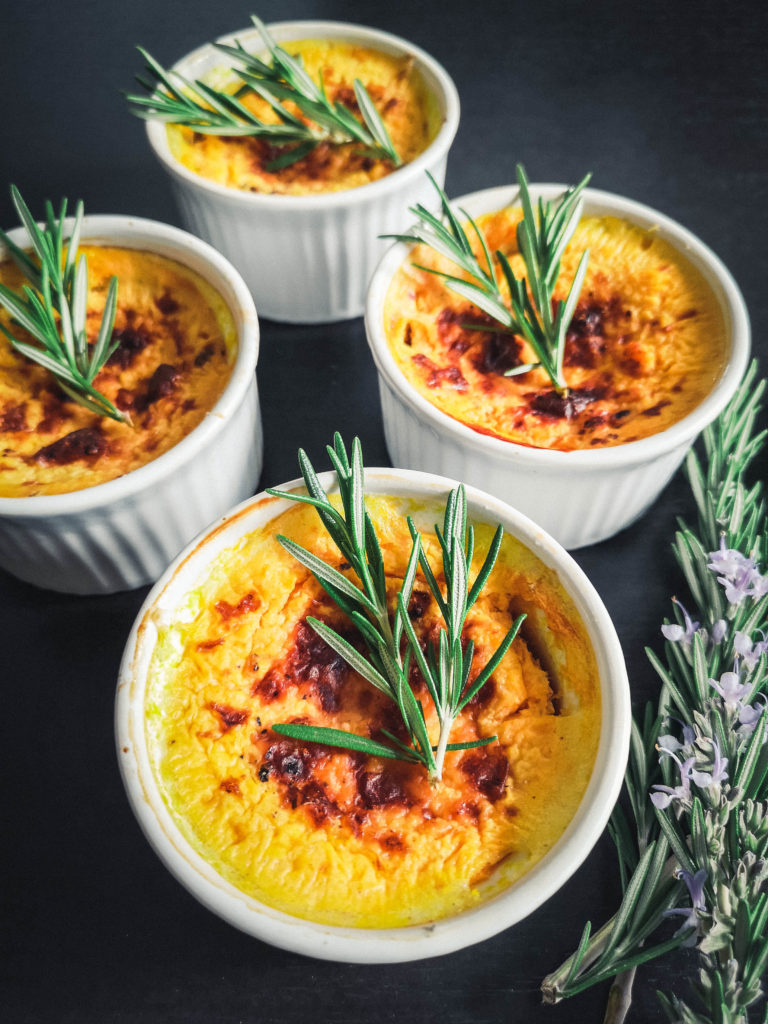 You might also like