As promised, I share with you another vegetarian recipe, quick to make and very tasty.
Why red lentils? Simply because they contain a lot of good things! Fibre, vegetable proteins, zinc, iron, phosphorus and flavonoids.
I added a seasonal vegetable: cabbage. Some people don't like its taste, and thanks to the spices, you hardly notice it! It contains vitamin C and antioxidants.
Depending on the seasons, you can add what you want:
zucchini (makes a little water during cooking),
peas,
of the carrot (be careful, however, it will be necessary to cut it finely and add cooking time),
pepper
…
This recipe is spicy, you can modify it according to your desires and tastes.
Preparation time: 10 minutes | Cooking time: 20-25 minutes | Ready in 30 minutes
Ingredients for 4-6 persons:
130g coral lentils (rinsed)
450 ml water
1 can of tomato paste (140g)
Seasonal vegetable: cabbage. I used half of it (200g), you can put the vegetables you want.
1 large onion
1 clove of garlic
olive oil
wraps (I found quinoa and chia wraps, it changes a bit!)
1 tespoon of turmeric
1 pinch of cayenne pepper
1 teaspoon of tandoori
2 drops of ginger essential oil (or fresh ginger if you have it)
Optional: 200g smoked tofu. I added smoked almond and sesame tofu to the preparation.
Preparation: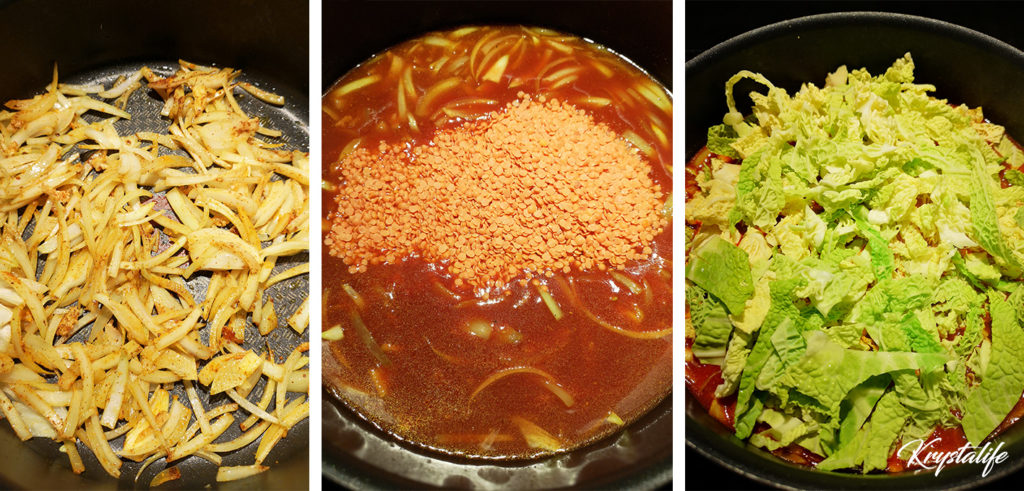 1/ Put the olive oil and spices in a pot, then add the chopped onion and finely chopped garlic. Sauté the onion until soft.
2/ Add the tomato paste, water and lentils that you have rinsed beforehand. Mix well.
3/ Then add the finely chopped cabbage. Optional: also add smoked tofu pieces.
Simmer for 20-25 minutes with a lid, stirring occasionally to ensure that the cabbage cooks evenly. If you see that there is a little less cabbage cooking and almost no juice left, add a little water if necessary, but not too much! We don't want a soup, the mixture must fit in the wrap!
The preparation is ready when the vegetable is cooked. All you have to do is taste it in a wrap!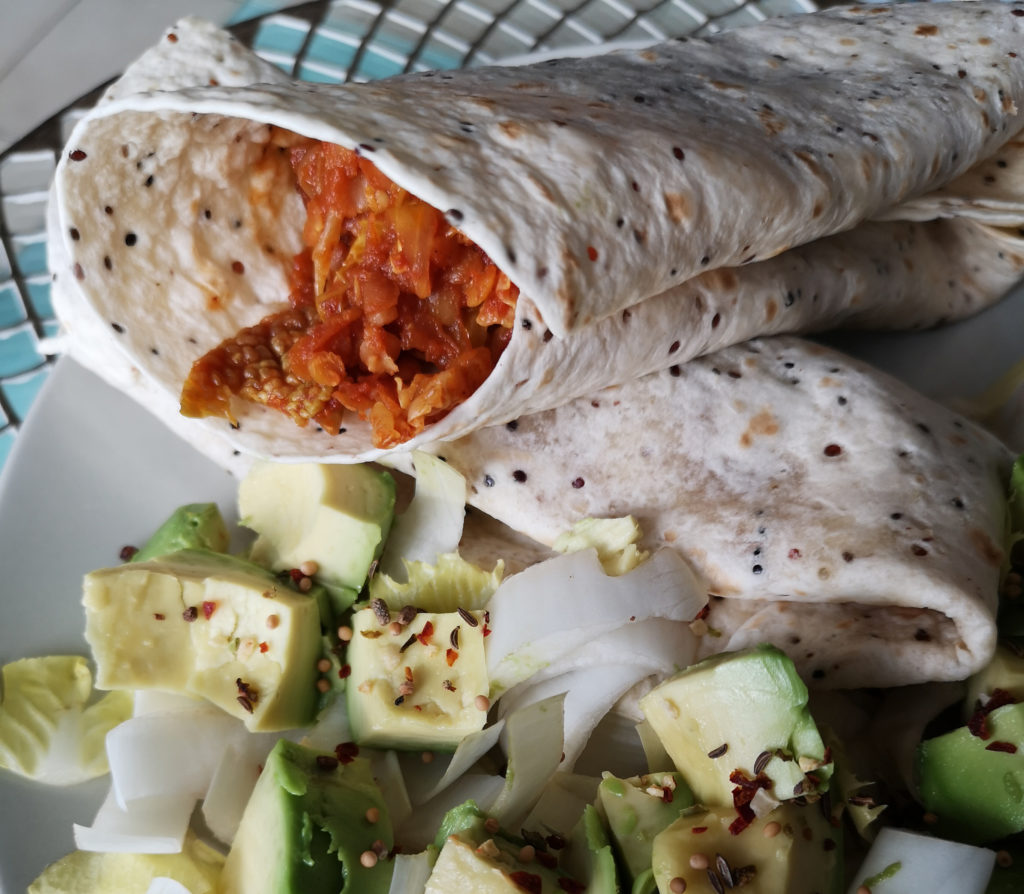 Tip for those in a hurry!
If you don't have time, try the quick version without the vegetables. The dish will be ready in 15 minutes. You can still add spinach shoots or salad to the wrap.

You can download the recipe here!

You might also like