I wanted to share a nice recipe with tofu. A perfect alternative when you don't want to eat meat. As for the breading, I advise you to use one hand for the dry preparations and the other for the liquid preparation, otherwise your fingers will be beautifully breaded too!
Preparation : 30 minutes | Cook : 25 minutes | Ready in 55 minutes
For 8 to 12 fingers :
250g / 9 oz extra firm tofu (nature or smoked)
1 teaspoon salt
½ teaspoon pepper
60g / ½ cup flour
1 tablespoon cornstarch
120ml / ½ cup milk of your choice
1 teaspoon apple cider vinegar
1 teaspoon Dijon mustard
60g / ½ cup bread crumbs
1 teaspoon garlic powder
1 teaspoon paprika
1 teaspoon onion powder (optional)
1 teaspoon ground cumin
¼ teaspoon Cayenne pepper
olive oil, for brushing
Honey mustard dipping sauce :
60ml / 1/4 cup honey
60ml / 1/4 cup mayonnaise (I think I'll try it with cottage cheese for a lighter version!)
60ml / 1/4 cup Dijon mustard
1 tablespoon white vinegar
1/4 teaspoon cayenne pepper
Preparation :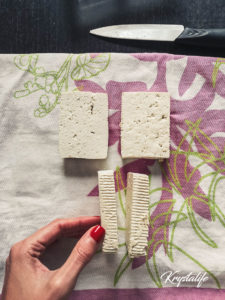 On the side of the block (thickness) cut tofu in half. Wrap the tofu in a clean cloth and place a heavy object on the tofu for about 15 minutes to remove excess liquid.
During these 15 minutes of waiting:
– Preheat the oven to 220 ºc (425ºF). Grease a baking sheet with a brush and olive oil.
– In a small bowl, mix the flour and cornstarch with a fork.
– In another small bowl, combine the milk, cider vinegar and Dijon mustard. Whisk with a fork until the mixture is smooth.
– In a third small bowl, combine bread crumbs, salt, pepper, garlic powder, paprika, onion powder, cumin and cayenne pepper with a fork.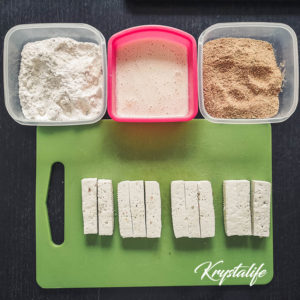 After 15 minutes, remove the cloth and season each side with salt and pepper. Then cut lengthwise to form sticks.
Take a piece of tofu and coat it with the flour mixture, then with the milk mixture, then put it back into the flour mixture, into the milk mixture and finally into the breadcrumbs.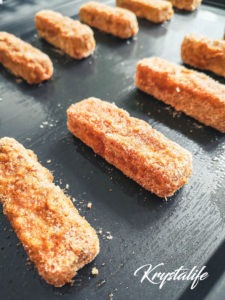 Place on the oiled prepared baking tray and repeat with the remaining tofu sticks.
Using a brush, delicately coat each stick with a uniform layer of olive oil.
Then, put in the oven for about 25 minutes at 220°c, or until the desired colouring is obtained. Turn the sticks over halfway through cooking for extra crispness.
For the sauce, it's easy! Just mix all the ingredients and it's ready!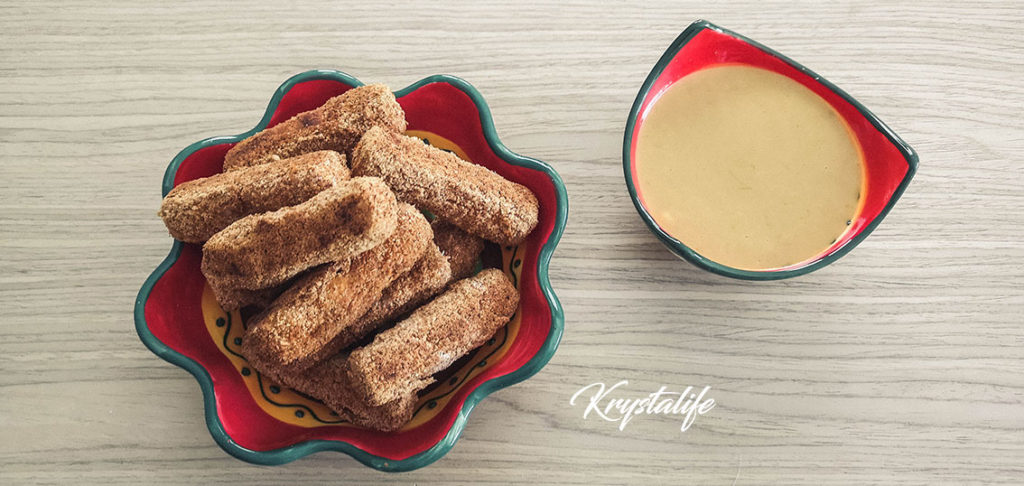 You might also like